I am so grateful that I found yoga.  Or did yoga find me?  It's a chicken/egg scenario for sure.
In the early days of my yoga practice I lived in New York City.  Everything I did had that Manhattan flavor and all-encompassing feeling of striving for more.  The space where I practiced (the original Om Yoga location on 14th Street) was a beautiful cross-section of NY life. People from every profession, art culture and Being found their way to this unassuming building that offered a transformational practice.
I only took Basic classes at that time and even then the room was often filled with ex-dancers working to retrieve their bodies from a lifetime of encouraging their limbs into counter-intuitive physical forms.  Athletes, gymnasts and dancers of all styles seemed to  flow formlessly into this alternate expression, taking on the asanas with the ease and aptitude of their former disciplines.  It's difficult to truly harness the memories of the challenges I faced in my practice back then.  I do remember, however, that even when I felt awkward in my own body I took amazing pleasure and inspiration from watching the diverse expressions in the bodies around me.
I did not approach yoga as an extension of any physical practice, sport or dance background; I came to yoga as a hippie!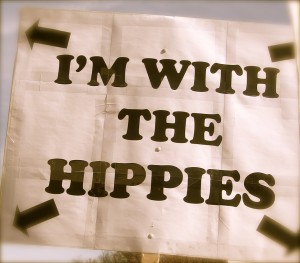 C'mon people, turn on your heart lights!  Yes, I had a history in the theatre which required that I participate in various dance classes and occasionally perform movements to music and song, but a dancer that does not make.  (I am, however, extremely comfy on a colorfully lit dance floor with a D.J. spinning Jackson 5, Lady Gaga & Madonna and a cocktail somewhere in sight, but that's another whole blog-to-be.)
While I embrace and love the physical aspects of yoga and indulge in the open-ended box of possibilities of the body, I am equally drawn to the spirit which conceived this practice.  Creating a series of poses designed to allow the body to relax into sitting meditation is brilliant!  A practice that reminds people to open their hearts and minds, not to judge themselves or others, to practice ahimsa (non-violence), to explore the edge of life's experiences, to honor oneself, is beyond brilliant!
I used to wonder what became of radical youth, or even not-so-radical-youth who attached themselves to a "scene" that may express themselves in an extreme way, as they came into adulthood.  I suppose one may say that following the Grateful Dead and enjoying the occasional Rainbow Gathering would place me smack dab in the middle of that description.  The answer to my progression, while not at its inevitable end, has definitely found a solid yet porous expression on my yoga mat.  It was an effortless transition that did not require leaving myself behind, rather it embraced the wholeness of my self while digging ever deeper into the soil of my soul.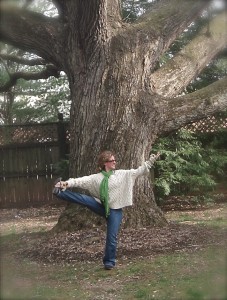 A large common denominator among the loves of my life including: the Theatre, Grateful Dead, Rainbow and Yoga (those mentioned in this blog), are the people.  My mother always says that it's the people that make the place, and she's absolutely right!  It's about community.  Being around people whose intentions are to connect more fully to themselves, the earth and those around them, realizing that we are all just part of the whole (while being whole all on our own) is a liberating and easy feeling and one that speaks directly to me.
My father used to say that I would have been a very successful actress if I never had to audition.  I laugh now at that truth he saw so long ago.  I was just never very competitive (as long as I'm not playing Scrabble 😉 ).  It is poetic and profound to free-fall into yoga and all of the arteries that stem off the main path.  I get to have fun while doing something good for myself and, by extension, my family and friends (and possibly even strangers) without the pressure of having to compete!  Sure, there are things I'd like to experience along the way, but if they don't happen then, oh well!  I will keep on practicing and cultivating my inner garden, taking great joy in watching it bloom and grow.
Thank you Yoga!